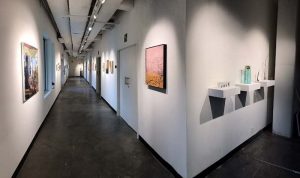 By Mr. John Thomas Paradiso
When I moved to Brentwood, Maryland in 2004, I had no idea it was an arts district. As it turned out, the Gateway Arts District is a two-mile stretch of US Route 1 starting on the border of Washington, DC into Maryland, running through four municipalities (Mount Rainier, Brentwood, North Brentwood, and Hyattsville). 
Long before I moved here, a group of folks including local artists, community leaders, and elected officials came together to create a vision for future development along Route 1. They knew that these working-class neighborhoods, although overlooked by developers at that time, would someday be appealing.
For years the story has only been, "Artists move into a neighborhood and make it attractive, and then the developers come in and move the artists out." But because of the high concentration of artists located in these neighborhoods for years, the community put its energy towards cultivating "arts-driven economic development" to attract developers that would embrace the artistic community and keep what was so attractive: the arts itself.
Thanks to that planning, we have seen some successful development projects in the arts district that have been wins for artists, developers, and the broader community. One recent project is the new mixed-use apartment complex Studio 3807.
Continue reading John's blog on the Americans for Artists website here.